Sesam Sensation Cover Band
BIOGRAFIE
Dé coverband van dit moment is de Sesam Sensation Band. Onder het motto….
It's "Music" and "More" weten ze werkelijk elk evenement tot een groot succes te maken!
In de frontlinie vinden we zangeres Anne Stalman en zanger Sebastiano Zafarana. Sebastiano
Zafarana…. deze naam klinkt u vast bekend in de oren! Dat klopt! Sebastiano was kandidaat bij The Voice
of Holland en zat in het team van Roel van Velzen. Daarnaast is hij een ex-musicalster uit de stal van
Joop van den Ende en speelde o.a. rollen in de voorstellingen Elisabeth, Titanic & Jeans 12'. Tevens
werkte hij mee aan Musical Awards Gala's en was Sebastiano als solist te zien in 'Musicals in Ahoy'.
Anne is bekend van o.a. 'Op zoek naar Evita' Ze eindigde bij de laatste 5! Daarnaast heeft ze in diverse
musicals gewerkt waaronder We Will Rock You waar ze de eer had om te mogen samenwerken met
niemand minder dan Brian May van Queen!
Beide entertainers worden muzikaal begeleid door vier zeer getalenteerde instrumentalisten die het
bekende muzikaal hoge niveau van de Sesam Sensation Band bewaken. Buiten hun vertrouwde
instrumenten beheersen deze heren ook perfect hun stem. Met maar liefst zes leadvocalisten brengt de
Sesam Sensation Band een programma waarbij het publiek zich al snel aanwezig waant bij een avond met
vele verschillende artiesten.
de Sesam Sensation Band is interactief, veelzijdig, origineel en beschikt daarnaast ook nog eens over een
grote dosis energie die zeer aanstekelijk op het publiek werkt. Mede door de verrassende muzikale
wendingen die er in het repertoire te vinden zijn weet de Sesam Sensation Band een ieder aan zich te
binden en heeft de band in no time een klik met het publiek gemaakt.
Kortom de Sesam Sensation Band is 'the must have' voor elk evenement!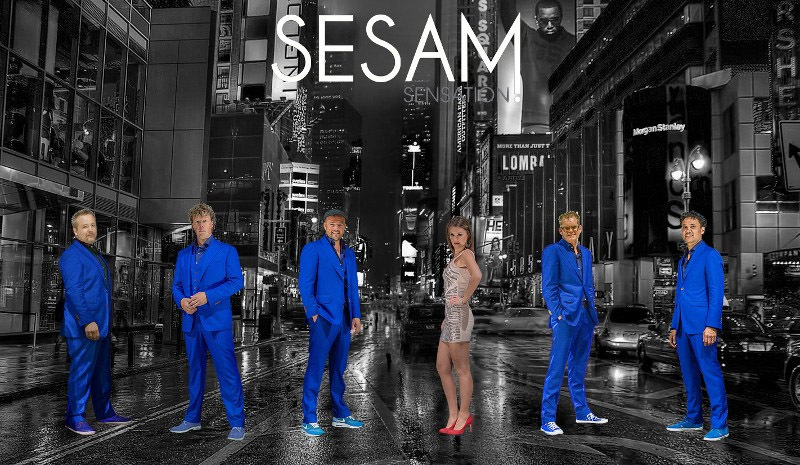 REPERTOIRE
POP ENGELSTALIG:
Adele Rolling In The Deep
Amy Mac Donald This Is The Life
Amy Winehouse Valerie
Armin van Buuren feat. T.G. This Is What it Feels Like
Avicii Wake Me Up
Black Eyed Peas I Gotta A Feeling
Bruno Mars The Lazy Song
Bruno Mars Locked Out Of Heaven
Bruno Mars Treasure
Caro Emerald A Night Like This
Cascada Evacuate The Dancefloor
Coldplay Viva La Vida
D.Gueatta / Jesse J Without You / Domino
Duffy Merci
New York & Crazy in Love Alicia Keys feat. Jay Z / Beyonce
Kate Perry Firework
Kings Of Leon Sex On Fire
Pink feat. Nates Just Give Me A Reason
Jessie J Price Tag Ft. B.O.B.
Ne-Yo / Usher Closer / Dj Got Us Falling In Love Again
Robin Thickes Blurred Lines
This is love / Euphoria Dont You Worry Child / Will.i.am/ Eva Simmons & Loreen
PARTY:
Marco Borsato Rood
Marco Borsato Medley 1 Binnen, Dromen Zijn.. & Leef Niet Meer Voor Jou
Marco Borsato Medley 2 Je Hoeft Niet Naar Huis Vannacht & Vrij Zijn
Michel Telo Medley Ai Si Tu Eu Te Pego e.v.a.
Nederlandstalige Medley 1 Even Aan Mijn Moeder Vragen, Malle Babbe
Nederlandstalige Medley 3 Angst, Vrienden Voor Het Leven & Amarillo
Nielson Beauty & de Brains
Party Spring Medley Met O.A. Viva Hollandia
70'S & 80'S
70's & 80's:
Disco Medley Met O.A. Relight My Fire & Disco Inferno
Earth Wind & Fire Medley Met O.A. Fantasy, September & Boogie Wonderland
Gloria Estefan Medley Medley Live In Atlantis 2000
Irene Cara Fame
Italiaanse Medley Met O.A. Zucherro, Eros Ramazzoti & Umberto
Micheal Jackson Medley Thriller, Billy Jean, Black Or White, Ben & Beat It
Queen Meldey Bohemian Rhapsody, Somebody To Love & Barcelona
Stevie Wonder I Wish
Brand New Day & Ease on Met O.A. Brand New Day & Ease On Down The Road
Tina Turner Medley Met O.A. Proud Mary, Simply The Best & Nutbush City
ROCK:
Anouk Girl
Kings Of Leon/L. Jansen Use Somebody
Liquido Narcotic
Pennywise Bro Hym
Rock Medley 1 Living On A Prayer, Final Countdown e.v.a. Jump
Rock Medley 2 Killing in the name / Give ita way / Told You e.v.a.
ACTS:
Alessandro Safina Luna Tu (pmc)
Andre Hazes Zij Gelooft In Mij
Black Light Drum Act! Met O.A. Safri Duo
Paul Potts Nessum Dorma (pmc)
Toppers Medley Hello, Ik Bel Je Op, Ik Hou Van Jou, Het Plein
LOVESONGS:
Adele Make You Feel My Love
Alain Clark Hoe Zeg Ik Jou
Alain Clark Love Is Everywhere
A. Bocelli & L. Pausini Vivo Per Lei (pmc)
Ben Saunders If You Don't Know Me By Now
Duffy Warwick Avenue
Glennis Grace Afscheid
Heart Alone
J. Brown feat. Pavarotti It's a Mans World (pmc)
Kelly Clarkson Because Of You
Marco Borsato Mageritha (pmc)
Marco Borsato Zij
Micheal Buble Everything
Private Dancer (live) Tina Turner
Robbie Williams Angels